Crowdfunding sites like GoFundMe have helped revolutionize the fundraiser. If you are looking to donate anonymously to GoFundMe campaigns to support a cause that is close to your heart, you can use our simple donation sheet below. Many people want to give to help their friends, neighbors, or loved ones, but might prefer to remain anonymous, or may feel awkward about having the organizer know that it is you who is giving. Just copy and paste the web URL of the specific crowdfunding or crowdfunding campaign to which you would like to send your donation, and we will send it as a donation anonymous on your behalf – allowing for you to maintain total privacy.
As crowdfunding sites like GoFundMe also point out, they do not really offer an anonymous donation option. The "anonymous" donation options only make your name anonymous to the people who are interacting with the donation page (see below on the right hand side of our example picture). The person who setup the GoFundMe (your neighbor, friend, or other organizer), can see your name and will know exactly who you are. Your information will not be hidden to them. In that respect, you are not really anonymous at all. We can change that for you!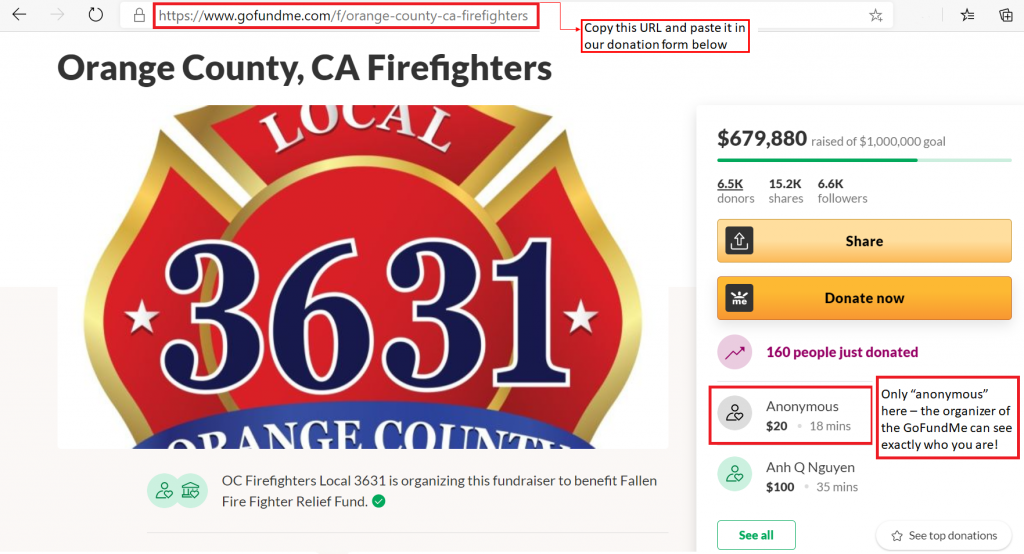 If you want to send a truly anonymous donation to support a crowdfunding or GoFundMe for your friend, neighbor, or cause you believe in, use our donation form below and send it today! Sites similar to GoFundMe in other countries include Fundrazr, GiveSendGo, JustGiving, and MyCause.
CrowdfundingDonation Form - Silent Donor
This is an encrypted and data-protected form. Please note that we assess a five percent platform fee to every donation.