Partnering with Silent Donor is the fastest and simplest way for charities/nonprofits to accept anonymous donations from their supporters!
Silent Donor regularly partners with organizations to allow them to accept fully anonymous, tax-deductible donations from their supporters. Despite the fact that the number of donors who wish to remain anonymous is very high and steadily increasing, we noticed there was no easy way for charity or nonprofit organizations to accept anonymous donations. Amidst this undeniable global movement towards wanting greater privacy among consumers/donors, why not give your donors the chance to support your organization within a level of privacy they are more comfortable with?
🚨We're committed to protecting the privacy of donors, so listing Silent Donor as an option for your donors does not cost any money. We work with all charities and nonprofits for free! 
---
Some advantages we have seen from organizations that partner with us: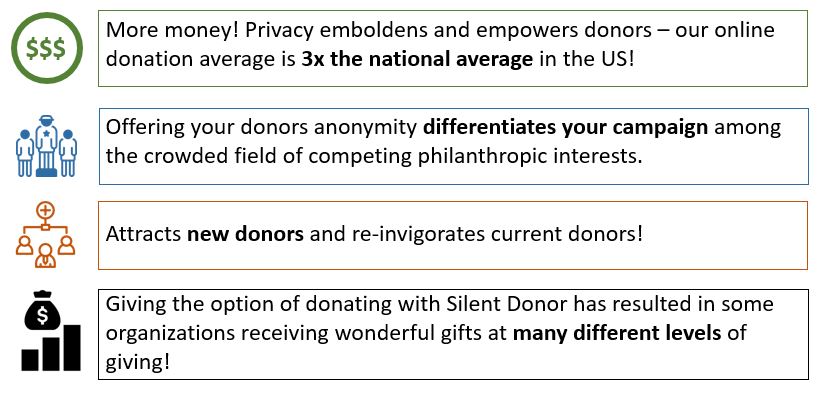 ---
There are many different ways to work with Silent Donor:
(1) The most effective way is to simply list Silent Donor as a donation option on your organization's giving page. This can be in the form of a button or hyperlink that leads donors to our secure donation page. You can customize the language around the button in a way that will speak to your donors. Then, when they reach our donation form, they just write in your organization's name (they are free to specify certain initiatives as well) and we send their donations on to you anonymously. Offering a fully anonymous donation option could be the deciding factor behind a donor giving to your organization.
(the pictures below are real examples from different organizations who have partnered with us)
(2) Another avenue is sending an email blast or social media posts announcing that your donors can now send fully anonymous donations through Silent Donor to support your organization (usually done in tandem with the option above). You can then gauge the response of your community to this message. We have found that the overwhelming majority of respondents that interact with these posts online have been energetic and excited about the announcement. (example below)
(3) Finally, we have had some organizations run mini campaigns around partnering with us, framing their donors as "Silent Heroes" or "Secret Admirers" for the campaign, which was met with great enthusiasm among donors. We are very flexible and here to help you reach and engage all donors.
A few organizations that we have publicly partnered with include: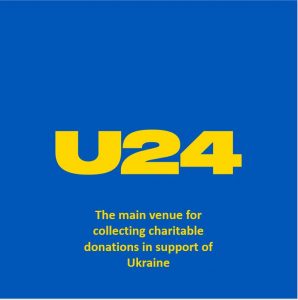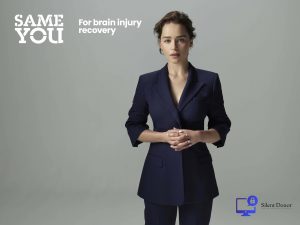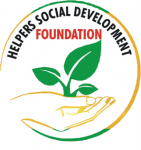 Email us at: [email protected] to talk with a team member!
About anonymous giving : anonymous giving is vitally important because it provides the opportunity for privacy-minded donors to support crucial philanthropic endeavors that have the capacity to affect positive change in lives across the world. It gives permission to donors to donate freely to the causes they admire most with a level of privacy they are comfortable with, and without any reservations or fears. Newly equipped with the anonymity they are looking for, these donors will provide untold gifts to charities, hospitals, religious institutions, social programs, disaster relief efforts, and much more. 
At the end of the day, Silent Donor is empowering all people and organizations to give back – privately.